Leaving Knowstone in Devon on the start of its long journey to Essex: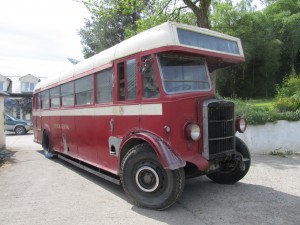 Loading onto one of Mike Ellis's wagons at The Log Cabin Diner, on the A361: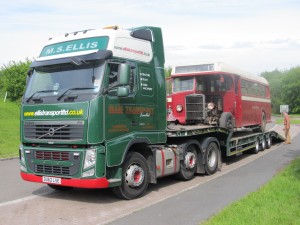 That's Paul the driver checking the bus is securely on.  The late Phillip Platt, who died after a short illness early in 2018, drove it down the lane from Manor Farm and onto the wagon parked by The Log Cabin Diner.  I drove it off the wagon when it arrived in Essex the day after, and almost all the way  down our lane it stopped with a fuel system fault – the Autovac was not drawing fuel from the tank and once the reservoir was empty, the engine stopped!  Ian M. arrived very soon and we topped up the Autovac reservoir, bled the injectors on the fuel pump and away we went again!  Here it is on arrival outside our bus shed.